4.5m Trailing Spader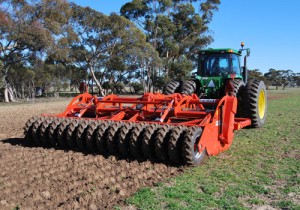 The 4.5m trailing Farmax Spader machine has been designed as a result of feedback and discussions with local farmers in South Australia and Western Australia.
As with the other Farmax machines this Spader has bolt on spades allow easier replacement and the bolts give some shearpin protection.
It comes standard with a PTO slip clutch. The PTO drive line has been modified to allow sharp turns while the rotor is operating clear of the ground. This makes the machine more efficient.
Rippers can be attached to the A-frame.
Press wheels carry the back of machine giving some compaction with defined ridges. This helps to resist wind erosion.
For a printable 4.5m Farmax Flyer.
 Technical data
Working width
4.5m
Number spades
36
Weight
6800kg
PTO Power
200 – 300 Hp
149 – 224 kw
Capacity
Up to 3.4 ha/h
Up to 7.5 km/h
Working depth
200 – 400 mm
PTO rpm
1000 rpm
Press Wheels
8.3×24″ tractor tread tyres
2 gangs of 8 wheels each
Videos of the 4.5m Trailing Farmax Spader
Click here for a video of the 4.5m trailing Farmax Spader on Youtube.